The power of visual job ads
Hiring teams often worry that their jobs look the same as their competitors in a crowded marketplace. Learn how to stand out from the crowd.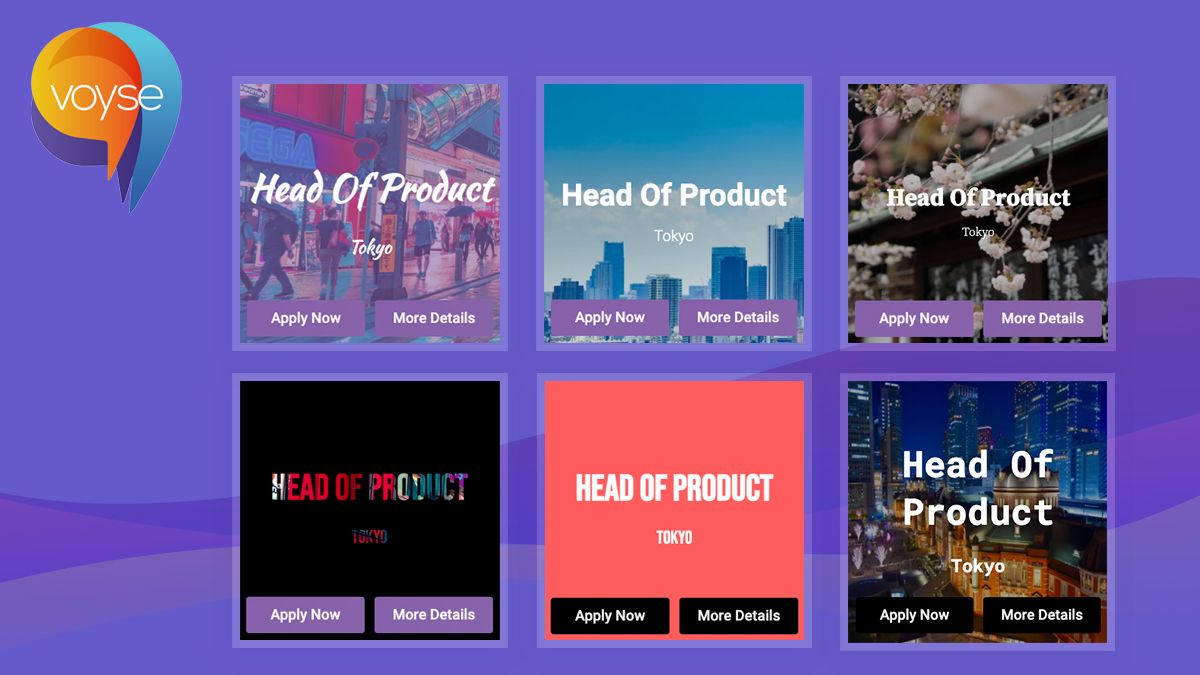 It's a common worry for hiring teams that their jobs look the same as their competitors in a crowded marketplace.
To a candidate, skill requirements, salaries, even competitive perk packages can all start to blend together when searching through tens or hundreds of roles. The most immediate remedy to this is to look to traditional marketing techniques for answers.
Visual job ads use images, videos, and other visual elements to attract and engage potential candidates. They can be powerful because they are more engaging and memorable than text-based ads, instantly providing character and delivering key information.
Visual job adverts can be effective for several reasons:
They grab attention: Visuals are more likely to catch people's attention than text, which means that visual job adverts are more likely to be seen and remembered by potential candidates.
Visuals are a powerful way to convey information quickly and effectively, which can be particularly useful in a crowded job market where candidates have limited time to read and evaluate job ads.
They help to create a positive brand image: Visuals can help to create a positive and memorable image of a company as an employer, which can be important in attracting top talent.
They can differentiate your company from competitors: Visual job adverts can help to set your company apart, making it stand out in a crowded job market.
They can act as a culture hub: as a first point of contact with candidates, it's a great place to introduce them to the feel and texture of a business and what it's like to work there day to day.
The use of visual job adverts can be an effective way to attract and engage potential candidates, and companies that use them effectively are likely to have an advantage in the recruitment process. Conversely, companies not upping their recruitment marketing game can find themselves falling behind and losing out on top talent.
Giving candidates a personalised experience
In online marketing, what often seems to be a static homepage or advert, is often one of hundreds of constantly shifting variants, designed to eliminate weak imagery or copy. The experience you have when landing on a company's homepage may differ greatly to someone else. This is achieved by grouping cohorts of intended recipients, and/or A/B testing designs and marketing collateral.
Whilst we're not advocating trying to create a personalised ad for every potential candidate, beginning to think of ways to group your potential recipients based on criteria which might be appropriate for your business is a good place to start.
To give a candidate the impression of a personalised experience, you should try to tailor the recruitment process to the intended audience. This could involve things like customising the job description and the interview questions to match the candidate's skills and experience, thinking about their differing priorities, and offering flexibility in terms of the interview schedule and format.
For example, would it make sense for recent graduates to see a version of one of your roles with more early careers information in the ad? Perhaps a video about the benefits of joining the business straight out of university? This information could be critical in someone's decision making process to shortlist your role over a competitor?
Considering your audience as a range of personalities and individuals is the first step towards making the recruitment process more engaging and relevant to them. Don't settle for boring black and white job ads - show the world why you're a great place to work!
Build your
dream team

with Voyse.

Incredible visual job ads increase candidate engagement, showcase diversity, aid interview preparation and create strong advocates for your working culture.